History - Emily Carr's History as a Canadian Artist
One of Canada's most celebrated artists
Emily Carr spent most of her life in British Columbia. Her family led a conservative English life in Victoria. Carr was known throughout her life for her independent, rebellious and sometimes abrasive personality. In her biography, she recounted a time from childhood when she caused a scene at church by kicking at the minister and later playing in the mud in her Sunday best.
She displayed an interest and ability in drawing early in her life. After her father's death when she was 17, Carr went against the wishes of her older sister and decided to study art in San Francisco.
After returning to Victoria, Carr went on a sketching trip to the B.C. forest, where she had her first immersive encounters with the First Nations people. Members of the Nootka peoples gave her the name Klee Wyck, meaning "Laughing One."
Europe Bound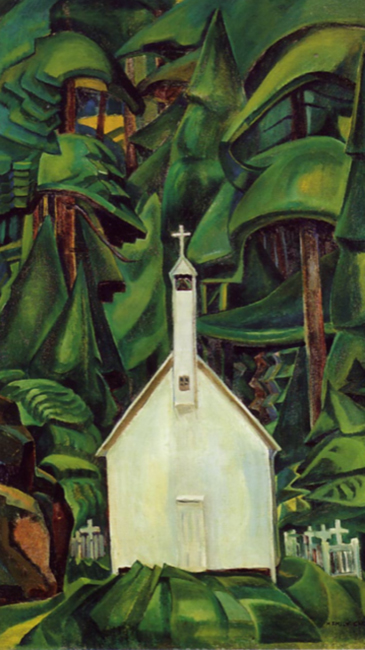 In order to raise money to study drawing and painting in Europe she gave art lessons in Victoria. While in England, her health deteriorated due to anaemia and she had to be hospitalized for 18 months. For companionship, the doctors allowed her to raise three baby birds by her bedside.
Once she recovered, Carr travelled to France to learn about "The New Art" movement sweeping Europe in 1910, characterized by bold colours and visible brush strokes of the post-impressionists and fauvists. Two of the pieces she painted in France, Brittany Landscape and Autumn in France were accepted by the Salon d'Automne in Paris and exhibited with works by Matisse, Vlaminck and others. To view the work of Matisse and other French painters of the early 1900's visit the Barnes Foundation.
Return to Canada
Upon her return to BC in 1912, she organized an exhibition of her work created in Paris, which met with mixed reaction from critics. Shortly after, Carr set off on a solo expedition into the wilderness to capture her perception of B.C.'s First Nations culture and peoples through painting. She brought her painting supplies, blankets, and food. A logging boat took her to several Haida villages. In two months, she painted over 200 pieces.
In 1913, Carr submitted a proposal to the provincial government to display her paintings in the new wing of the Parliament Buildings. They rejected her proposal, as the paintings did not portray a photographic image of First Nations people, life, and culture. Undeterred, she mounted her own exhibition, which was met with criticism. Visitors expected a perfectly reproduced image, not paintings that attempted to express the spirit of the First Nations villages as seen by Carr. This time, the public's criticism of her work had a negative influence on her. Carr would not paint for another 14 years.
Recognition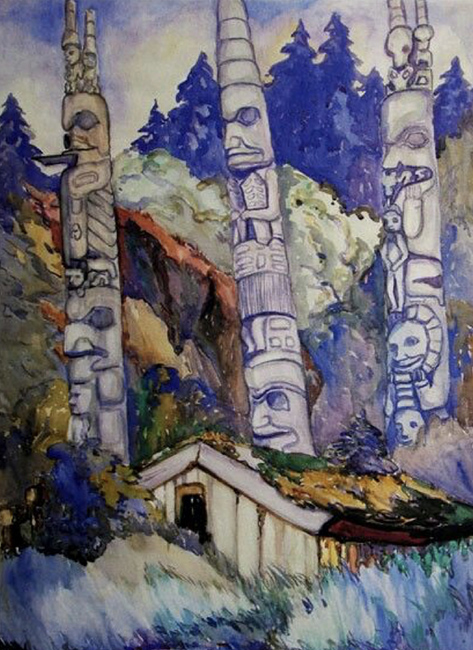 From 1913 to 1927, Carr made ends meet by running a rooming house and breeding dogs. In 1927, Marius Barbeau, Director of the National Museum in Ottawa heard of Carr's work from a Tsimshian interpreter and invited her to exhibit some of her paintings at the Exhibition of Northwest Coast Art in Ottawa. She met many artists and returned to Victoria renewed. At 57 years of age, Carr went into the B.C. forest again, this time going deeper into Skeena and Nass to paint the First Nations territories.
In the early 1930's, influenced by The Group of Seven member Lawren Harris, Carr decided to turn her attention to the natural landscape, and leave First Nations motifs behind. In 1933, she purchased a modest trailer she called the Elephant. With it she took numerous sketching trips to the shores and wooded areas on Vancouver Island and created her signature landscapes.
By 1935 Carr had become one of Canada's most celebrated artists. She also won the Governor Generals Award for writing in 1941. Her short stories, cartoons, and autobiography became almost as famous as her paintings. Carr enjoyed a few short years of public recognition, prior to her death in Victoria in 1945. After her death, Lawren Harris wanted to ensure her work was appropriately represented. He was instrumental in the selection of her work for The Vancouver Art Gallery and other large Canadian institutions.
By 1940, Carr had travelled in her caravan to many of Victoria's surrounding forests and shores. She made hundreds of pencil, charcoal and paint sketches while on these trips, with the intention of turning many of them into larger, more detailed paintings back in her Victoria studio.
This painting shows Carr's interest in portraying light, and the sky surrounding the trees. There is a spiritual quality to the light in this painting, one that can be seen in many Lawren Harris paintings from the same time. Carr and Harris were good friends, and they often wrote letters discussing their art, and the philosophical approaches to their work. Unlike Harris, who found inspiration in artist collectives like the Group of Seven and the transcendental painters of New Mexico, Carr rejected all groups and organized religions.
646 Simcoe St, Victoria, BC, Canada